The content of this page is drawn from:
Mitter, H., Techen, A.-K., Sinabell, F., Helming, K., Schmid, E., Bodirsky, B.L., Holman, I., Kok, K., Lehtonen, H., Leip, A., Le Mouël, C., Mathijs, E., Mehdi, B., Mittenzwei, K., Mora, O., Øistad, K., Øygarden, L., Priess, J.A., Reidsma, P., Schaldach, R., Schönhart, M., 2020. Shared Socio-economic Pathways for European agriculture and food systems: The Eur-Agri-SSPs. Global Environmental Change 65, 102159. https://doi.org/10.1016/j.gloenvcha.2020.102159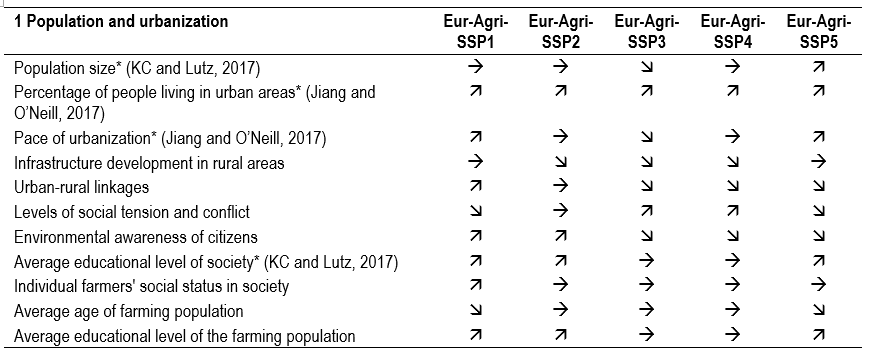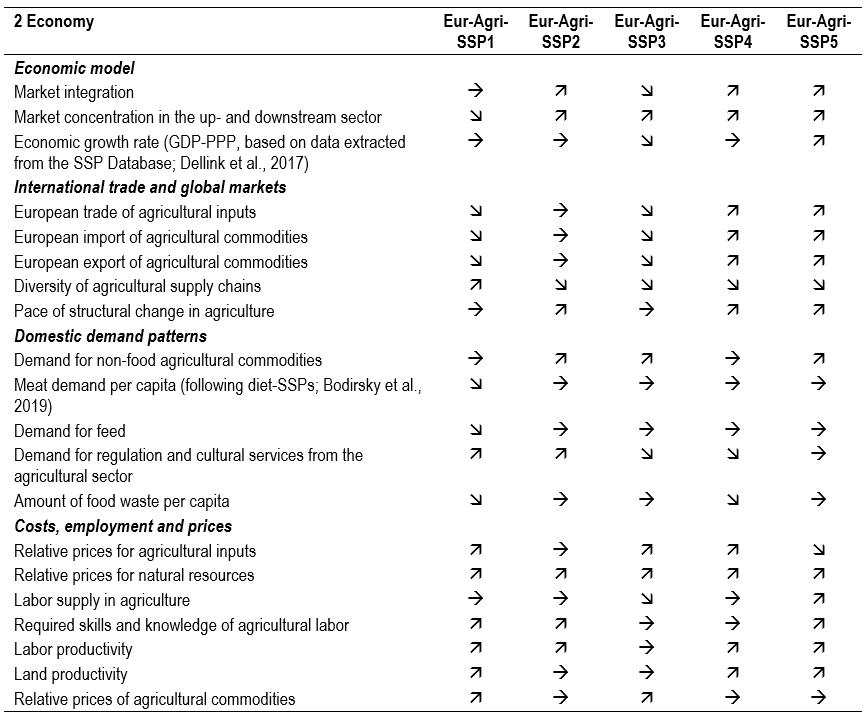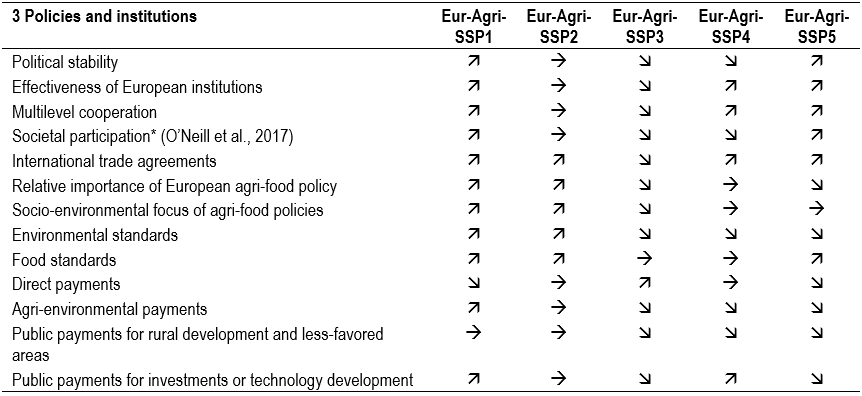 References:
Bodirsky, B.L., Alessandrini, R., Mitter, H., Prexl, K.-M., Leip, A., Pradhan, P., Gonera, A., Milford, A.B., Sanz-Cobena, A., Weindl, I., Lotze-Campen, H., Popp, A.C., 2019. Food Futures: Narratives of Food Systems for Diet and Nutrition along the Shared Socioeconomic Pathways (diet-SSPs). Presented at the 13th European Nutrition Conference, Dublin. URL: https://www.morressier.com/article/p14003–food-futures-storylines-dietary-megatrends-along-shared-socioeconomic-pathways-ssps/5d5e5183bedcf39b76636846? (accessed 08.24.2020).
Dellink, R., Chateau, J., Lanzi, E., Magné, B., 2017. Long-term economic growth projections in the Shared Socioeconomic Pathways. Global Environmental Change 42, 200–214. https://doi.org/10.1016/j.gloenvcha.2015.06.004
Jiang, L., O'Neill, B.C., 2017. Global urbanization projections for the Shared Socioeconomic Pathways. Global Environmental Change 42, 193–199. https://doi.org/10.1016/j.gloenvcha.2015.03.008
KC, S., Lutz, W., 2017. The human core of the shared socioeconomic pathways: Population scenarios by age, sex and level of education for all countries to 2100. Global Environmental Change 42, 181–192. https://doi.org/10.1016/j.gloenvcha.2014.06.004
Kok, K., Pedde, S., Gramberger, M., Harrison, P.A., Holman, I., 2018. New European socio-economic scenarios for climate change research: Operationalising concepts to extend the Shared Socioeconomic Pathways. Regional Environmental Change. https://doi.org/10.1007/s10113-018-1400-0
O'Neill, B.C., Kriegler, E., Ebi, K.L., Kemp-Benedict, E., Riahi, K., Rothman, D.S., van Ruijven, B.J., van Vuuren, D.P., Birkmann, J., Kok, K., Levy, M., Solecki, W., 2017. The roads ahead: Narratives for shared socioeconomic pathways describing world futures in the 21st century. Glob. Environ. Change 42, 169–180. https://doi.org/10.1016/j.gloenvcha.2015.01.004